Advice & Slice
Would you, one of your colleagues, friends or family members be willing to deliver an Advice and a Slice session? This can be within any employment sector. We are aiming to enable our students to meet professionals to inspire them so they can make the right decision when it comes to their own career path over an informal lunch.
If you wish to volunteer please feel free to state which of the later you would be willing to offer by completing the forms on our Employers Page
Advice and a Slice' are a chance to meet some of our students and discuss with them your own experiences and dealings within the working world after leaving school. The event is informal in nature and we also offer free Domino's pizza to all those in attendance. The aim of 'Advice and a Slice' is to give our students some ideas and knowledge about their options and future after they leave the school, and even get the chance to start to build connections to help them later.
The topics covered could be wide ranging, but primarily 'Advice and a Slice' will focus on your own background in terms of education and career experiences – how that has enabled you to get to the position you are in now, as well as any advice you can give to students who aspire to follow the same or a similar career pathway.
Advice and a Slice are held during term time. They last for 40 minutes, during lunch time, which runs from 1.30 to 2.10pm. The events are advertised to students within school and targeted specifically at those who have already expressed an interest in the sector.
If you would like more information or you would like to volunteer to deliver an 'Advice and a Slice' session, we would love to hear from you!
Please contact Claire Broxton, our Careers Leader or Melenie Mylrea our Futures Coordinator, on 01449 613541 or via email:
Upcoming 'Advice and a Slice'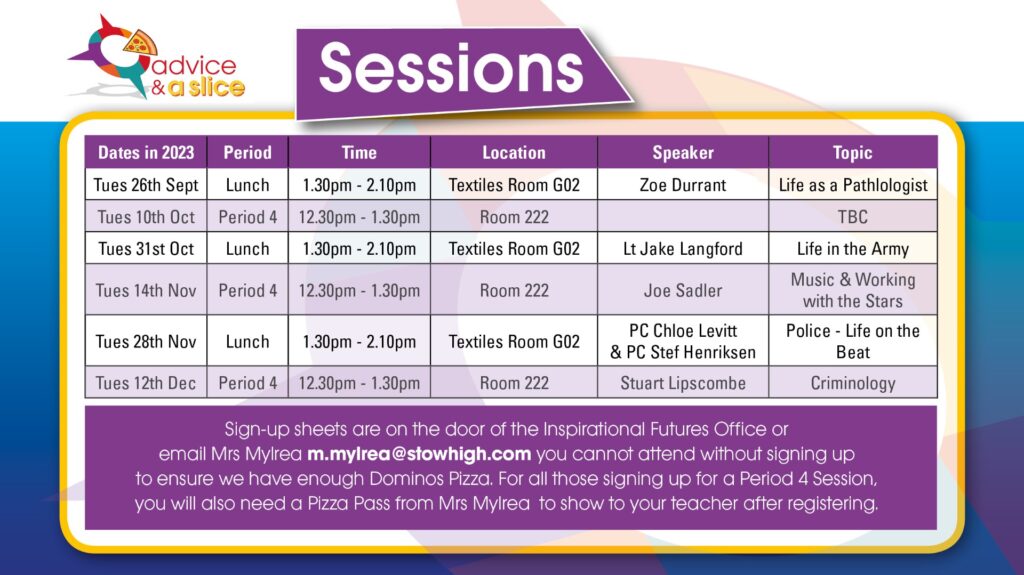 Upcoming 'Advice and a Slice' sessions are advertised on our main atrium screen, on our website or follow our Twitter feed and Facebook page. Sign up in the Inspirational Futures Centre on the 2nd Floor.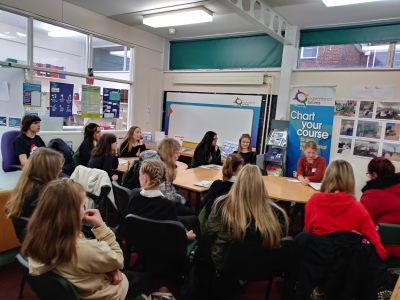 So far we have welcomed…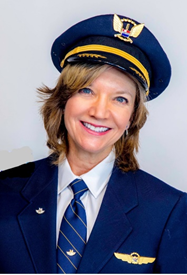 Year's 7 – 11
Training and Development Coordinator; Social Enterprise Leading Lives
Speciality Registrar in Histopathology
Civil engineering and Construction; Barnes Construction
Doctor – Palliative Care
High Court Judge and Clerk of the Court
Trainee AAT Accountants
Civil Engineering; BAM Nuttall
Gaming Industry; Nintendo
Royal Navy
Local Colleges
Radiographer
University Student on university life
Midwife
Business Owner, & Author, Mr Darren Lewitt
The Army
Tiffany Evripidou – Working and Studying Abroad
Jay Beagle – Government Social Research
Gergana Inanova – Marketing
George Hinds – Careers in Finance
Charli Vince – Illustrator
Bethan Williams – Law and the importance of Work Experience (pre-recorded)
Robert Jones – Apprenticeship in Electrical Engineering (pre-recorded)
Naomi Farrow – Working in Mental Health (pre-recorded)
Lois Cordelia – Community Artist (pre-recorded)
Business Owner, & Author, Mr Darren Lewitt, Business Owner, & Author
The Army
Alex Collins from Brafe Engineering: Engineering Apprenticeships
Dan Steed – Business Management – ex-Stowmarket High Student
Mr Will Fuller -Student Engagement Manager at Cardiff Metropolitan University – ex Stowmarket High Student
Sports & Uni
Ms Laura Savino – United Airlines Pilot – The Sky is not the Limit
Mr Joe Stocking, Head of Music and Media, West Suffolk College – Music and Working with the Stars (Royal Philharmonic/Kylie/Glastonbury)
PC Chloe Levett & PC Stef Henrikson – Life in the Police Force
Lieutenant Jake Langford, Royal Army Medical Corps – Life in the Army
Charlotte Reason, Attwells Solicitors – The World of Law
James Kimpton, BT Engineer – BT Apprenticeships
Joshua Ward, Sutton Hoo – Archeology
David White, The Environment Agency – Environmental Careers